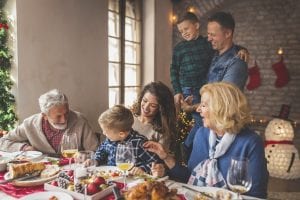 As Christmas nears, families from around the world will begin to prepare their annual Christmas feast. Here in the US, we'll enjoy a centerpiece ham or turkey surrounded with sides like green bean casserole and roasted potatoes, and finish it off with some apple pie. However, this long-anticipated and beloved Christmas feast can take on several forms. And with two billion people from across the globe who celebrate the holiday, traditions of all sorts will be enjoyed this December.
We at Redlands Ranch Market are proud to supply foods from all corners of the world. So in anticipation of the holiday season, our shelves are stocked with a large selection of international ingredients suited for your Christmas traditions. And in this article, we'll take a look at the kinds of feasts the world will enjoy on December 25th!
The Philippines. As in many parts of Asia, the center figure of their Christmas feast is called Lechon. This is a whole roasted pig that requires a rather labor-intensive process. It begins with stuffing the hog with ingredients like onions, lemongrass, and garlic, and is cooked while being rotated over a large fire. The production is a family affair and an event in itself.
Costa Rica. An authentic Costa Rican Christmas is not complete without tamales. Each December, this favorite dish is regularly enjoyed across Mexico and Central and South America with regional variations. However, in Costa Rica, they are wrapped in banana leaves and stuffed with meat (pork, chicken, or beef), garlic, onions, potatoes, raisins, and other ingredients.
Russia. In Russia, you might find the world's most eclectic Christmas meal. Named Herring in a Fur Coat, this dish comes with a unique presentation of vibrant colors. It is a layered salad of beets, mayo, potatoes, diced hard-boiled eggs, and herring at the bottom.
Italy. A Southern Italy Christmas is celebrated with The Feast of the Seven Fishes. Each fish is prepared differently. Some are fried, cured, served in tomato sauce, etc. And in spite of its name, the meal often surpasses just seven types of fish. However, you can trust to find Baccala or salted cod and calamari included in the feast.
Puerto Rico. Known for throwing one of the world's most extensive and spirited Christmas celebrations, Puerto Rico is famed for its delicious holiday meals. One of the country's favorite dishes, enjoyed all year, but especially in December is called Arroz Con Handles, or rice with pigeon peas. It is seasoned with garlic, oregano, tomato sauce, olive oil, and other ingredients.
Mexico. In our neighboring country, they will enjoy Bacalao or salted cod as a staple holiday dish in Mexico. This meal originates from a practice that precedes refrigeration when it was required that one at salt to preserve their meat and fish. Though this is no longer necessary, doing so causes the fish to be exceptionally tender and delicious. Today, it's made with tomatoes, ancho chiles, onions, potatoes, and olives.
Portugal. Most in Portugal enjoy some variation of codfish and boiled potatoes at their Christmas dinner. However, it's not the main meal that makes Portugal stand out this time of year. Their delicious pastries take center stage during Christmas, including Bolo Rei, a nut and fruit-filled cake, and filhoses, fried dough topped with cinnamon and sugar.
What will you make for dinner this Christmas? No matter your heritage or household traditions, we at Redlands Ranch Market strive to provide the ingredients you require. So make sure to stop in to stock up on the ingredients for your traditional family meal this holiday season!