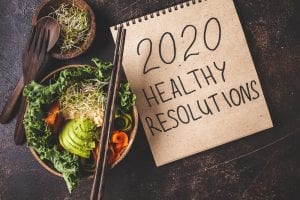 January 1st resembles a clean slate, a chance to start over and resolve to be better somehow. It is the perfect opportunity to consider the year past and strive for more in the one to come. This fresh start also marks a chance to reset your eating habits in the wake of the slew of holiday feasts and treats. So, if you're looking to boost your nutrition in 2020 without sacrificing your favorite snacks and goodies, consider these healthful substitutes.
Healthy Substitutes to Your Favorite Foods: 
If you're craving a salty snack…
We all know the feeling– the unignorable craving for chips or french fries. And once it's on the mind, it's hard to ignore. However, there is a healthy alternative to even this favorite snack or side! Swap out your deep-fried foods for roasted 
vegetables and sweet potatoes
. While chips and fries are delicious, they are also high in fat, salt, and starchy carbs. And as such, they add very little nutritional value to your diet. Alternatively, roasted veggies are similarly delicious and salty but come with plenty of vitamins and fiber. Plus, they are easy to make at home! This lends a cheaper option wherein you're able to control the amount of oil and salt you use.
If you're craving a sweet treat…
If you're looking to satisfy your sweet tooth without the excess calories, look for creative recipes that add some nutrients to your dessert. One of our favorites is
 banana ice cream
. This is easily made by freezing and blending ripe bananas. Add things like chocolate chips, cocoa powder, vanilla extract, and fruit for unique and delicious flavors. Homemade and healthy ice cream like this is the perfect alternative for a hot day. Not only can you control the sweetness, but you can also make large batches that will last for months.
If you just need a piece of chocolate…
It's hard to replace or replicate chocolate. There's simply nothing like the real thing. So, when you need a bit for your post-meal treat, opt for dark, rather than milk chocolate. Dark chocolate of at least 70 percent cocoa, eaten in modest amounts, has many proven health benefits. It is rich in iron, magnesium, and zinc. It's even known to promote heart health and reduce one's risk of diabetes, according to Harvard Health. Just make sure to eat even this healthier variant in moderation as it is still calorically dense and high in fat
If you need a carbonated beverage…
Soda is a refreshing accompaniment to so many favorite meals. However, keep in mind that this sugary beverage is packed with empty calories. So, make sure to limit your intake of all sorts of sodas. Instead, satisfy your carbonated beverage craving with fruit-flavored sparkling water. Squeeze in a bit of fruit juice into fizzy water for a delicious soda-alternative.
If you want to make it creamy…
Things like pasta sauce, dressings, and toppings are undeniably best if they're a bit creamy. However, favorites like alfredo, sour cream, and ranch dressing are packed with fat and dense with calories. Consider healthy substitutes to keep this favored consistency and unbeatable flavor, without the guilt. Try making alfredo using 
avocados 
and use greek yogurt in place of several items like sour cream, mayonnaise, and heavy cream.
This year, don't sacrifice flavor for good health! With so many alternatives and delicious substitutes, keeping your New Year's promises for good health is made easy! 
Stop by 
Redlands Ranch Market for all the ingredients you need to eat well this year.