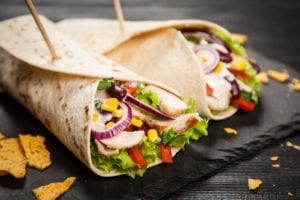 A tortilleria that is 100% authentic by design with tortillas that are 100% corn by nature, packaged warm and fresh for your convenience.
Redlands, CA: Redlands Ranch Market makes tortillas from scratch every day in their tortilleria (a tortilla production line that produces and sells freshly made tortillas). Though tortillerias are native to Mexico and Central America, some have been established in areas of the United States—one area being in Redlands in the Inland Empire of Southern California.
Many tortillerias produce tortillas from pre-made masa dough and others produce masa dough in-house from dried masa flour called masa harina. Redlands Ranch Market is proud to use the traditional method of cooking, soaking, grinding, and mixing 100% corn to make tortillas that would make grandma proud. According to their website, the Ranch Market team wants to stay true to their passion for preserving tradition, starting from the root of authenticity: the tortilla-making process. "Whatever we do at Redlands Ranch Market," their website says, "we want to do with authenticity and freshness, in a warm and inviting atmosphere."
At Redlands Ranch Market the tortilla-making process was designed to produce authentic Mexican style tortillas.  The team makes warm tortillas available for customers throughout the day, even as demand increases. "We make the old fashioned way…from scratch," they say. Initially (23 years ago) they started off by running the tortilla oven as slow as possible to insure the availability of warm tortillas throughout the day. The speed of the tortilla oven has been gradually increased over the years to accommodate increasing consumer demand, while honoring their  commitment of authenticity and freshness.
"Initially we were advised to get a crew in early and to pump out a full day's supply of tortillas and chips, stock our shelves, and shut the system down," the website relays. "But if we followed that advice, we would be going directly against our motto authentically fresh."
The marketplace's meticulous tortilla-making process combines soaking, cooking, grinding then mixing the fresh corn into the tortilla masa right before your eyes. Afterward, the tortillas are cut into perfect circles, cooked in the oven, and then cooled on layered conveyor belts before getting bagged and ready to sell (and devour). Redlands Ranch Market invites all to stop by the marketplace today to see how their famous tortillas are made.
The marketplace also offers a variety of authentic Mexican products, including tamales, tortilla chips, masa for tortillas, masa preparada (ready-to-use for making tamales), tostadas, taco shells, pork skin "cracklins," and more corn and flour products.
Redlands Ranch Market is a family-run business located in Redlands, Ca. For over 24 years Redlands Ranch Market has been dedicated to bringing value to the Inland Empire and its customers.  The marketplace offers traditional as well as international produce and grocery products.  Quite simply, it's a great place to find all of your "hard to find" international ingredients, imported beers, fresh baked goods, fresh cut meats (halal included), fresh juices, and "everything" authentic Mexican. They also offer catering to go services for your next big bash!  Stop by the "best international grocery marketplace in the Inland Empire" to experience authenticity today, including the freshest tortillas in town.