One sip of our juice, made with the
highest quality and freshest ingredients

, will transport you just south of the border to a sandy, tropical shore, complete with overhanging palm trees and a warm breeze. And with your "new year, new me" goals in mind, you can delight in this healthy option that provides a generous serving of your daily vitamins.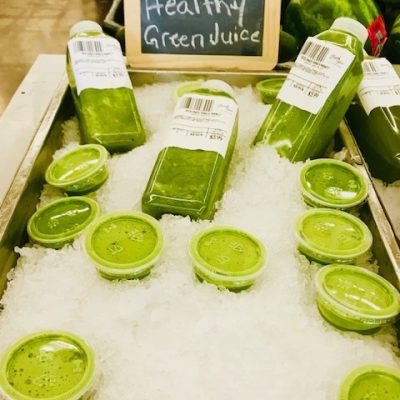 We've taken some serious strides in the development of our juice bar, located right inside our store's entrance. Since we have produce coming in fresh daily, we wanted to make it easier for our customers to increase their intake of "The Good Stuff." You can try a fresh juice, an acai bowl or a smoothie that your body will greatly appreciate! And with one of the widest selections of produce around, coupled with a special reverence for freshness and authenticity, you'll find that this isn't your average Juice Bar!
Unique Ingredients:
Here at Redlands Ranch Market, we take pride in the variety and quality of our ingredients. Indulge your sweet tooth with a sip of mango or pineapple. Or mix up your daily routine with some cashew milk or coconut water. The options for unique flavors and combinations are limitless with our wide selection of ingredients!
Fresh Preparation:
Don't settle for an overly processed, overpriced and bottled piece of paradise. When you come to the Redlands Ranch Market juice bar, you can expect to watch your fruity treat being prepared right before your eyes. No tricks or gimmicks here, just the authenticity you demand. There's nothing better nor more advantageous to your health than your full awareness of exactly what is being put into your food. Opt only for the healthiest and freshest choice!
And don't forget to keep an eye out for daily specials featuring unique ingredients.
You'll only find the best here, so come check out our variety of flavors and start your 2019 off right.
Benefits
Give your body the nutrients it needs to…

Promote Weight Loss | Fight Heart Disease, Diabetes, and Cancer | Boost the Immune System | Improve Digestive System | Improve Vision
Juices & Smoothies
16oz $4.75 | 24-oz $6.75 | 32oz $8.75
Pucker Up

Parsley, Kale, Spinach, Cucumber, Orange, Lime

Go Green

Parsley, Kale, Spinach, Celery, Cucumber, Lemon, Green Apple

Toxin Reducer

Parsley, Spinach, Red Fuji Apple, Lemon, Ginger

Beet The Heat

Cucumber, Carrots, Beets, Lemon, Oranges

Green Apple Detox

Green Apple, Cucumber, Kale, Lemon, Ginger

Pine Apple Breeze

Pineapple, Red Fuji Apple, Lime and Mint
Tropi-Calada

Coconut Water, Cashew Milk, Pine Apple, Agave, Vanilla

Turmeric Boost

Mango, Pine Apple, Lime, Coconut Water, Turmeric

Mango Y'Mas

Pineapple, Mango, Agave, Cashew Milk

The Islander

Jackfruit, Strawberries, Pine Apple, Agave, Coconut Water

Acai Me

Bananas, Acai, Blueberries, Agave, Spinach, Cashew Milk

Power Up

Banana, Agave, Peanut Butter, Vanilla Whey Protein, Cashew Milk, Cocoa Power

Bannana Berry Blast

Bananas, Strawberries, Blueberries, Agave Cashew Milk