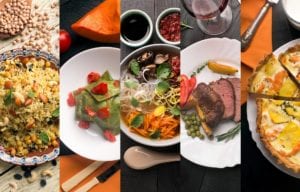 If you're reading this, you would probably agree that food and travel is a great combination. What's even better is when food and travel meet convenience! We're talking local restaurants with menus inspired by distinct cultures, food fairs that showcase spices or foods from different cultures and, of course, the newly-expanded International Deli Department at Redlands Ranch Market!
No need to drive (or fly) for hours just to get your favorite overseas dish or ingredients. Just stop by Redlands Ranch International Marketplace!
International Food International Food International Food International Food International Food
At Redlands Ranch Market, we offer authentic spices, ingredients, and specialty products from around the world. We are especially excited to showcase the international section of our marketplace. With new products from different cultures entering our shelves, we want to take the time to highlight this growth and the beauty of cultures around the world!
Why We Decided to Expand
The Redlands Ranch Market team truly appreciates our customers and the individuality they bring to enrich our market. As a result, at the request of our diverse customer base and our love for international foods, expanding our borders was the least we could do to return the support! And what better way to showcase our appreciation for cuisine and people around the world than by offering an international variety of bread, spices, veggies, meat, and other treats in our market.
You might already know about our commitment to offering authentic, ready-to-eat Hispanic cuisine every day and year-round with corresponding fresh ingredients available to purchase. We are proud of our Mexican heritage, and we take pride in offering the most authentic foods around in our cocina, bakery, and tortilleria. We are equally excited to now offer additional foods from around the world to meet the needs of our diverse and expanding customer base.
What's New On the Shelves, and What This Means For You
When someone is from a different country, they often find themselves missing the foods of their home country. As our valued customer, we want to make sure you're receiving good food, exceptional service, and an inclusive representation of ingredients that make you feel, literally at home.
That's why we're now offering an extensive variety of Arabic/Mediterranean, Asian/South Pacific, Eastern European, Ethiopian/Eritrean/East African, and Indian products.
Let's take a trip around the RRM world and delve into each international food that we're offering.
Arabic/Mediterranean: Among the most delicious and healthful cuisines of the world, Arabic/Mediterranean foods can often be hard to find. That's why we at Redlands Ranch Market are proud to supply these unique ingredients and spices for your culinary endeavors. Now, you can enjoy the bold flavors of the Mediterranean right at home in your own kitchen!
If you want to make the perfect Arabic or Mediterranean dish that reminds you of your home country, or you simply want to try something new, stop by and grab traditional falafel mix. Be sure to get a bag of couscous or freekeh for a grain.
Asian/South Pacific: Asian cuisine is complex, unique, creative, and exceptionally delicious. That's why we aim to provide the ingredients you need to create these fantastic dishes. An ever increasing variety of sauces, noodles, rice, spices, and all things in between can be found at Redlands Ranch Market.
We'll quench your international thirst with Vietnamese instant iced black coffee or Thai tea with cream and sugar. Feeling hungry? We carry an assortment of instant ramen. For those who miss the Philippines, or simply want to taste lumpia, we have a variety of flavors, including pork, vegetable, and chicken.
Eastern European: The cuisine of Eastern Europe encompasses many different countries and cultures. It is reflective of its unique climate, historical turmoil, and social and economic characteristics. And it is best described as delicious comfort food. The cuisine is marked with pickled veggies, bread, red meats, and fruits. Here at Redlands Ranch Market, we have everything you'll need to recreate your favorite dishes.
You don't have to fly to Turkey to have a cup of Turkish coffee. We also have so much tahini, you could practically swim in it! If you're craving kishk porridge, we've got you covered. We even have Tazah soup starters for those who want a hassle-free dish, among other soup flavors.
Ethiopian/Eritrean/East African: Ethiopian, Eritrean, and East African cuisines are made up of several vegetable and meat dishes served upon injera, an East African flatbread. These unique flavors are found in no other cuisine, making these foods particularly challenging to recreate. However, at Redlands Ranch Market you can find the ingredients required for these fantastic dishes.
So, you want to make injera but don't know where to buy teff flour. Look no further! Stop by our marketplace and purchase a bag of teff flour to compliment whatever vegetable and/or meat dish you're serving up.
Indian: We at Redlands Ranch Market have a wide selection of Indian foods. From hard-to-find spices to specialty grains and other unique ingredients, we have you covered. No matter what you are cooking we have the ingredients to create the recipes and flavors of your favorite palette. And as always, if you have a request please let us know and we will do our best to add it to our offering.
Hello, aloo! Potatoes and green peas, the tasty bhindi masala made of spiced okra in a thick gravy, chana dal, masoor dal–whatever Indian dish you can think of, we probably have it (or something similar). And, yes, we've got the snacks. Pani puri, to be exact.
Don't waste time! Drop by the Redlands Ranch Market today for an international treat!
Can't Find The Product You're Looking For?
At the Redlands Ranch market, we're excited to be given the opportunity to expand our borders. So, if you can't find the product you're looking for, no worries! If there is an international ingredient that you need but cannot find on our shelves, please do not hesitate to reach out for a product request; we would love to hear about it!
Simply go to our website and fill out the contact form or give us a call, and a representative will get back to you at the earliest convenience. We're always looking for ways to broaden our palate and meet the needs of our amazing customers. And we're dedicated to bringing value to our customers.
Here, the world is in your hands… or belly! Stop by today for a world tour of food and a convenient trip for all of your required ingredients.