Overview: Vegan and keto bakeries in the Inland Empire, 2 big benefits of baking at home, and beginner-friendly vegan and keto baked items you should try.
Grab-and-go vegan and keto baked options in the Inland Empire

Benefits of baking vegan and keto goods from scratch

Easy vegan and keto goods you can bake at home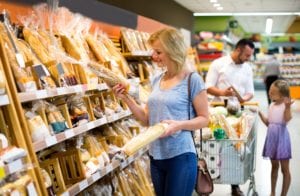 If you're in the vegan or keto world, finding baked goods could be difficult… but thank goodness you can expect the unexpected (in a good way) from Redlands Ranch Market! Baking at home has its own benefits. And for our Redlands folks, being able to buy baked goods in the I.E. or right around the corner also has its benefits.
Redlands Ranch Marketplace has been receiving great feedback on our line of fresh baked keto products! Our variety of keto treats continues to grow and now includes cheesecake, muffins, pound cakes, cookies, flan, and Tres Leches Cake! We've also recently started to bake vegan cakes and cupcakes… and we're getting great reviews on those, as well! Let's take a look at other places in the Inland Empire that offer vegan- and keto-friendly baked goods.
Bakeries in the Inland Empire that have vegan and keto baked options
If you're looking for a great place to get fresh baked keto and vegan goods, put Redlands Ranch Market at the top of your list! In our scratch bakery, we've always prided ourselves in having freshly baked and authentic Mexican breads and pastries. Now, we've expanded that selection of baked goods to vegan and keto items! We customize keto and vegan desserts for your upcoming celebration.
Let's take a look at other vegan and keto bakeries in the Inland Empire, including bakeries that offer vegan and keto items alongside traditional baked goods.
Benefits of baking your own vegan and keto goods from scratch
Baking your own goods at home is also a fun experience to satisfy your vegan and keto sweet tooth! There are several benefits of baking at home, too.
CONTROL WHAT GOES INTO YOUR BAKED GOODS, SUCH AS THE AMOUNT OF SUGAR

MODIFY HOME-BAKED GOODS TO REDUCE FAT AND SUGAR, ETC.
Control what goes into your baked goods, such as the amount of sugar — Being aware of your ingredients. The reason why baking at home is beneficial is because you're aware of every ingredient that's going into what you'll be doing.
Sadly, when it comes to eating out, you don't always know what you're putting into your body. Some people with certain dietary restrictions have accidentally eaten things they shouldn't have because they weren't fully aware of what ingredients were going into the food. Baking at home greatly reduces having to experience these types of mistakes.
Because eating a vegan and/or keto diet excludes some ingredients that are considered necessary — especially in the baking world — many places such as bakeries find it difficult to accommodate these kinds of eating lifestyles. As such, not every place desires to offer products for every type of dietary restriction. It's hard enough trying to eat dairy-free, but now you also can't have eggs, or regular butter, or carbs!
Modify home-baked goods to reduce fat and sugar, etc. — Being adaptable. For Redlands Ranch Market, one of the best things about baking items from scratch in our bakery kitchen is having the ability to adapt and create new items as needed. This goes hand-in-hand with the previous benefit. Being adaptable means that we can fulfill customer requests without hesitation!
Related article(s): You should start Baking at Home
Try these simple vegan and keto baked recipes at home
Refuting the idea of baking at home is relatively easy — some might reason that it's too late to start learning how to bake and others might simply say that, rather that time, it's too hard to bake at home. But you don't need some baking guru to teach you how to successfully bake your own goods at home. Check out these simple recipes below!
Keto Cake – The BEST Chocolate Recipe — This rich and decadent chocolate keto cake is super dense and ultra fudgy, is flourless and uses no oil, and only take 14 minutes to make, 7 ingredients to use! There's even a vegan keto version of this cake for those who want to take things up a notch!
Vegan Peanut Butter Cookie Bars — We know this is all about baked goods, but sometimes the most delicious "baked" good treat might not even require baking! This no-bake vegan PB treat has a fudgy cacao topping that covers a decadent peanut butter chocolate chip layer. Let's repeat that: There's a delectable peanut butter chocolate chip cookie dough layer underneath a rich cacao-date-walnut layer. That all sounds fancy, but these peanut butter cookie bars are actually very easy to put together.