2021 food industry trends from smart food packaging to plant-based eating to post-pandemic dine-ins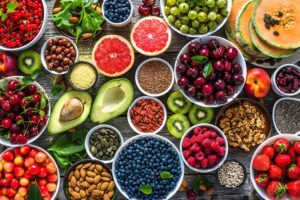 When was the last time we talked about trends in the food industry? We'll raise our hands with slight guilt because the truth is: We haven't — or at least don't talk about it enough. But we're changing that.
Discussions about what's trending in the food industry aren't considered new. And due to 2020's focus on health in literally every industry, society has reinforced the emphasis on conversations around the food industry.
Some discussions might be hard to stomach (pun intended), but it's necessary to bring awareness to the very industry that often influences our health and affects our planet.
Here are 6 trends in the food industry we'll be discussing:
The need to satisfy consumer takeout and delivery expectations/demand

Merging technology and food (smart packaging, product tracking, & more)

Food to focus on mental, environmental, and physical health

Pushing labels (Trans Fat, GMO, calories)

Leveraging taste and functionality

Adjusting the in-person dining experience in a post-pandemic world
This blog will address the first 3 trends: consumer takeout/delivery; technology and food; physical, mental, and environmental health. The second part will discuss the latter 3 trends.
THE NEED TO SATISFY CONSUMER TAKEOUT AND DELIVERY EXPECTATIONS/DEMAND
To be profitable today, operators must ensure their takeout and delivery offerings satisfy consumer needs.
Such efforts have included new innovations (think virtual concepts such as bulk meals and meal kit offerings… and menu refinements that balance comfort and healthful items while emphasizing flavor, portability, and food safety).
Takeout Statistics Between 2020 and 2021
In a survey for Datassential's spring 2020 ONE TABLE initiative:
76% of restaurant operators  offered curbside pickup

The majority (54%) of them hadn't done so previously

2/3 of all operators providing curbside service intend to continue the offering long term

58% of surveyed operators deliver through third-party providers

Of the above-mentioned group, 14% added the service in spring 2020
Last year's necessary move from dine-in to takeout and delivery elevated other operational considerations, including food portability (from both a packaging and durability standpoint) and safety.
Case in point for operators:
42% now use plastic containers with lids

24% use containers with tamper-proof seals to reassure customers that their food is safe to consume
History has shown that bowls, wraps, sandwiches and salads travel better with sauces and dressings served on the side. For extra peace of mind,
47% now supply individual condiment packets rather than cups filled in-house.
Family size and bulk meals also emerged as a new opportunity:
31% ultimately implemented family size and bulk meals

Nearly 7 in 10 plan to continue providing these offerings even when dine-in restrictions are fully lifted nationwide

Additionally, 25% began offering meal kits last spring

The majority (61%) of those who do so plan to continue the offering long term
There's no denying that the 2020 dine-in challenges sparked a rapid rise in innovation across all segments.
These strategies and more can make your operation even more appealing to takeout and delivery (plus dine-in) customers for the foreseeable future.
To read more about insights to the dining industry and the COVID-19 pandemic, click here.
MERGING TECHNOLOGY AND FOOD (SMART PACKAGING, PRODUCT TRACKING, & MORE)
Food Monitoring With Invisible Barcodes
Early in the pandemic, headlines across the country focused on outbreaks at food and meat manufacturing plants. As a result, more consumers have looked critically at where their food comes from and who makes it.
Experts say that theme will continue in the next year, with technology working to make food and workers more safe.
Innova Market Insights said that as more consumers (six in 10) become interested in their foods' origin, new packaging technologies such as invisible barcodes will make it easier to meet this demand.
Innovations are already debuting to spotlight this trend, like digital expiration date labels that offer real-time monitoring of food quality.
Tracking Products With Blockchain
In addition to smart packaging, food producers are also increasingly using blockchain, a system of recording information in a way that makes it difficult or impossible to change, hack, or cheat the system, to track products from farm to table, including coffee and turkeys.
Blockchain can help if there is a recall and can provide better traceability, which supports the accurate withdrawal/recall of unsafe food, if required.
Nielsen at WGSN, the global authority on consumer and design trends, said consumers are looking for more promises of safety. This means food suppliers need to communicate more about their efforts.
Learn more about tech trends in the food industry here.

FOOD TO FOCUS ON MENTAL, ENVIRONMENTAL, AND PHYSICAL HEALTH
Mental Health Cooking
Food and nutrients play an integral role in maintaining overall mental and cognitive health. And after a long and arduous 2020, mental wellbeing has never been more important.
There is no denying that when your body is malnourished of certain nutrients, it can leave lasting effects. This is exactly why eating for your mind and body will be coming into focus as a rising food trend of 2021.
There are so many ingredients and superfoods that can boost your mood, soothe anxiety, combat depression and support your mental health. Consumers will seeking out foods that not only make them "feel" good but also "do" good for them.
We'll get more into this balance of delicious and health in part two when we discuss leveraging taste and functionality. In the meantime, you can read more about mental health cooking (and more) here.
Environmental Health
It's an understatement to say people care now more than ever about their health. With the vaccine now available, it looks as though the  COVID-19 crisis will come to an end at some point during 2021. However, the climate crisis is not going anywhere.
Toss in that with consumers' focus on personal health and we've got a whole salad of conscientious foodies!
While sustainability issues within the food industry have somewhat understandably taken a back seat, it's crucial that they are brought back to the fore.
In particular, progress made on eliminating single use plastics from the industry has taken a few steps backwards. But consumers still care about sustainability when it comes to their food.
Related reading(s): Seven challenges and trends the food industry can expect in 2021
Efforts such as ingredients and packaging provenance are now becoming as vital as the quality of the product.
In fact, 54% of survey respondents to the International Food Information Council (IFIC) said they believe sustainability is very or somewhat important.
The global food industry may not be responsible for as many greenhouse gas emissions as certain other industries, but it's high — releasing about 3.3 billion tonnes of CO2 each year, according to the UN's Food and Agricultural Organization.
The global food industry also accounts for a huge portion of the world's land usage, an increasingly hot topic to environmentalists.
Reusable cups, so heralded in the fight against plastic waste, were banned from coffee shops back in March.

But plastic wrapping has crept back, driven by consumer worries over virus contamination.
Check out more on sustainable food trends including its subset, food waste, in this article.
Physical Health: Plant-Based And/Or Vegan Food
We would hardly call plant-based or vegan diets a "trend" anymore. Increasingly, consumers are seeking alternative food and beverage formulations that help them avoid unwanted ingredients and/or perceived allergens.
More companies are incorporating meat substitutes on their menus and shelves. As a result, people are finding it easier to decrease their meat intake and follow a more plant-based diet.
They're tapping into specific diet plans in order to align their food and beverage choices with personal nutritional or ethical goals.
In fact, just over one-third of adults are currently following a flexitarian eating plan, 5% are true vegetarians, and 3% each are true vegans or pescatarians, per Packaged Facts.
And with one-third of mainstream adult eaters interested in vegetarian or vegan fare (according to Datassential) we can assume companies will continue to incorporate meat substitutes.
Find out more from the Institute of Food Technologies here.
The world had basically been living under a rock through most of 2020. Ensuring that safety standards are upheld in the industry is crucial in order to maintain the high level of trust that consumers have in food manufacturers presently.
Manufacturers need to make sure that the food on our plates is safe to eat and the people who are making the food are looked after, too.
Food manufacturing is one of those sectors where it is not possible to work from home — you can't package meat over Microsoft Teams, after all.
In conclusion, keeping workers safe and restoring confidence in the workforce that their manufacturing facility is a secure environment will continue to be key for companies throughout 2021.
Don't forget to stay tuned for part 2 of this article. Where we address the final 3 food industry trends for 2021: labels; taste and functionality; the post-pandemic dine-in experience.
Related Readings: