From Ash Wednesday to Easter Sunday, we have some time left to consider tasty Mexican Lent recipes to make before the religious season ends!
You likely have your favorite meat-free Mexican meal for Lent that you eat every year.  Shrimp and fish tacos are some of our favorites! (We happen to make them fresh in our cocina every Friday.) We also love our Lent special: Capirotada that we make fresh and sweet every Friday.
During Lent, people practice self-discipline in various ways, including fasting and abstaining from luxuries.
According to the United States Conference of Catholic Bishops (USCCB), the reason meat isn't eaten on Fridays during Lent is because Friday has been a day that those who practice Catholicism have set apart for special penitential observance.
Since it is believed Jesus Christ suffered and died on the cross on a Friday, Christians from the very beginning have set aside that day to unite their sufferings to Jesus. The goal is to "gladly suffer with Christ that they may one day be glorified with Him." This is the heart of the tradition of abstinence from meat on Friday.
Why abstain from meat... and what about fish?
For much of the Church's history, meat was singled out as a worthy sacrifice on account of its association with feasts and celebrations. In most ancient cultures, meat was considered a delicacy and the "fattened calf" was not slaughtered unless there was something to celebrate.
Since Fridays were thought of as a day of penance and mortification, eating meat on a Friday to "celebrate" the death of Christ didn't seem right.
Regarding fish, the USCCB states that the laws of the Church classify the abstinence from "land animals" such as chickens, cows, sheep or pigs, and birds; fish are a different category of animal. Salt and freshwater species of fish, amphibians, reptiles (cold-blooded animals), and shellfish are therefore permitted. Additionally, fish in these cultures was not considered a "celebratory" meal and was more of a penance to eat.
3 meatless Mexican recipes to eat during Lent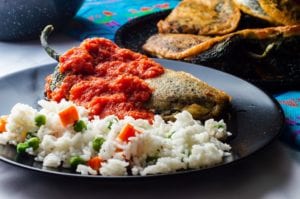 Let's consider three popular and delicious meals that you could make this Lent season: Chiles Rellenos (Stuffed Peppers); Camarones a la Diabla; Capirotada (Mexican Bread Pudding).
Chiles Rellenos (Stuffed Peppers) – This is a great traditional Mexican dish. It takes a little bit of time, but it is worth every minute! Provecho! Serve with a side of Spanish Rice.
Ingredients:
4 fresh poblano chile peppers

½ pound lean ground beef

1 onion, chopped

1 clove garlic, chopped

salt and pepper to taste

3 eggs, separated

1 cup shredded mozzarella cheese

2 roma (plum) tomatoes, chopped

½ cup all-purpose flour

1 cup corn oil
Step 1: Place whole peppers over an open flame (gas burner) or under the broiler. Roast, turning frequently until evenly black and blistered. Remove from heat, place in a plastic bag, and let them sweat for a while. This will allow the skins to peel of easily.
Step 2: While the peppers are sweating, place the ground beef in a skillet over medium-high heat. Cook, stirring to crumble, until evenly browned. When beef is fully cooked, add the onion, garlic and tomato, and cook for a few more minutes. Season to taste with salt and pepper.
Step 3: Remove the peppers from the bag, and peel off the burnt skin. You may wish to wear protective gloves. Run peppers under cool running water to rinse away any burnt pieces. Make a small vertical slit in the side of the peppers, and remove the seeds and veins. Stuff each pepper halfway with the ground beef mixture, then fill the rest of the way with shredded cheese. Close the slits, and secure with toothpicks.
Step 4: Whip egg whites in a large glass or metal bowl until thick and fluffy. Add the egg yolks, and whip for a minute to blend in.
Step 5: Meanwhile, heat 1/4 inch of oil in a large heavy skillet over medium-high heat. Coat the stuffed peppers with a light dusting of flour, then dip them in the egg so they are fully covered. Carefully place in the hot oil, and fry on both sides until golden. Drain on paper towels, then serve on a large platter.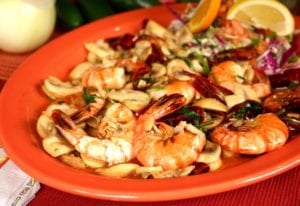 – Juicy, large shrimp covered in a bright red chile pepper sauce that are ready to eat in 30 minutes!
Ingredients:
8 dried guajillo chiles, rinsed, stems and seeds removed

3 dried chile de arbol chiles, rinsed, stems removed

3 Roma tomatoes, chopped

2 cloves garlic

1/2 medium white onion, roughly chopped

1 teaspoon coarse kosher salt

4 tablespoons olive oil

1.5 pounds large raw shrimp, peeled, deveined and tail-on

salt and pepper, to taste
Step 1: In a medium bowl or saucepan, add dried guajillo and arbol chiles. Add very hot or boiling water until chiles are fully submerged. Cover with a lid or large plate and let sit for 15 minutes, until chiles have softened.
Step 2: Using a slotted spoon, transfer the softened chiles to a large blender. Add the tomatoes, garlic, onion and salt. Puree until completely smooth. Taste and season with more salt, if necessary. If the sauce is too spicy, add more tomatoes.
Step 3: Heat a large saute pan or skillet over medium-high heat. Add olive oil and shrimp. Cook shrimp for 1 minute per side, or until shrimp is light pink.
Step 4: Add the red chile sauce to the pan or skillet and mix together to coat the shrimp. Lower the heat to medium and cook for 3 to 5 minutes, until the sauce is bubbling and hot.
Step 5: Remove the pan or skillet from the heat and serve alone as an appetizer or with Authentic Mexican Rice as a meal.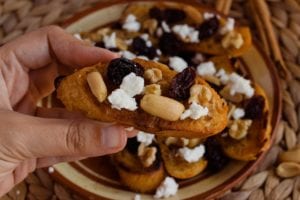 (Mexican Bread Pudding) – A sweet treat made of bread, fruits, nuts, and cheese.
(a) Add water, star anise, cinnamon stick, and piloncillo to pot. The bread represents the Body of Christ. The syrup (melted piloncillo) his blood, the cloves are the nails of the cross, the cinnamon stick is the wood used for the cross. Piloncillo is a raw form of pure cane sugar that is commonly used in Mexican cooking and is sometimes referred to as Mexican brown sugar. This type of sugar has not been processed, leaving it with a golden brown color and a deliciously rich flavor similar to molasses. Piloncillo, also known as panela and panocha, can be used in the same way other types of sweeteners are used. Bring mixture to a boil and let piloncillo melt.
(b) Dice up a block of cheese, or you can use shredded cheese too. The melted cheese stands for the Holy Shroud of Turin. TIP: Yellow cheese is not authentic Mexican and is not recommended for this recipe. If the recipe asks for yellow cheese, it is a Mexican-American adaptation of the authentic recipe.
(c) Layer the bread. Mexican bakeries will sell already sliced bread just for Capirotada, or Mexican Bread Pudding. That bread tends to be too hard or already toasted. This recipe does not involve toasting. For this recipe, old bolillo is strongly recommended. However, you can use fresh bolillo or cut up French Baguette. It's only natural to use Mexican bread to make Mexican bread pudding.
(d) Add the desired toppings. Such as banana slices, shredded coconut, peanuts, almonds, raisins, candy sprinkles, candied pineapple. Continue layering until there are no more ingredients.
TIP: Before the bolillo goes bad, wrap it up in plastic wrap, and stick it in the freezer. Bread can last up to 6 months in the freezer.
This can either made with a milk (Capirotada de Leche) or a water base (Capirotada de Agua) and you can add all of these toppings or a combination. View the full recipe with measurements, ingredients, and variations here.
We sell food items that can satisfy your taste buds during this time of observance.
Get your fix of Capirotada and shrimp and fish tacos every Friday, fresh during Lent. For more items we offer, stop by the marketplace and ask about our Lent specials! You can also contact us to learn more about our meatless options here.