When was the last time you treated yourself to a Middle Eastern breakfast? We've got recipes that are easy to make and even more delicious to eat
What are people eating around the world to get their day started? It isn't always eggs and bacon, that's for sure.
Eating a large breakfast simply isn't the most logical thing to do first thing in the morning if we want to be productive. Thankfully, many traditional Middle Eastern breakfast recipes use fresh and light ingredients so you can continue your day with energy. Let's explore some of these dishes!
"Stewed fava beans (or broad beans), typically seasoned with a little ground cumin and finished with good extra virgin olive oil. Egyptians serve with warm pita bread and jazz it up with lemon juice, fresh veggies and herbs." — The Mediterranean Dish
Foul mudammas (also known as Fool Medames) is a popular dish throughout the Middle East and the Levant and the unknown sibling of hummus. Interestingly, this is actually considered Egypt's national dish! Still, in the middle east, hummus and fool go hand-in-hand.
Fool is the Arabic word for fava beans and is a dip made of mashed, cooked fava beans served with a drizzle of olive oil and some lemon juice. The possibilities for jazzing it up are simply endless, but here's a quick recipe:
INGREDIENTS
 1 can cooked fava beans
1 medium tomato, finely chopped
1 lemon, juiced
1/4 cup mint leaves chopped
Extra virgin olive oil to drizzle on top
1 clove garlic minced (optional)
INSTRUCTIONS
In a small pan, heat the fool (including its canning water) on medium heat, till  it boils. Lower the heat and simmer for few minutes
Take off heat; mash with a pestle or the back of a spoon
Add the tomatoes and mint, reserving some for decoration
Pour mixture in a serving plate, top with remaining mint and tomatoes
Drizzle with olive oil.
You can refrigerate the leftovers in a tight-lid glass container for about 2 days (maybe 3 at most). Bring to room temperature and enjoy with pita bread.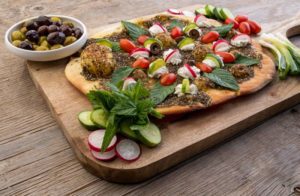 "This Lebanese breakfast consists of herbed flatbread, but don't think that it is simple or boring. The bread can be made in many different shapes and styles, giving you plenty of delicious variety." — Food For Net 
Found in Lebanon and some other parts of the Middle East, zaatar refers to an herb and spice blend on top of flatbread called manouche (or sometimes manakish). The herb blend is most notable for the use of sumac which provides the zaatar with a distinct tang that is often lacking in other spice blends.
INGREDIENTS
 1 tsp dry active yeast
1 tsp white sugar
4/5 cup lukewarm water
12 oz all purpose (AP) flour
1 tsp salt
1 Tbsp EV olive oil plus extra for greasing the proofing bowl
½ cup EV olive oil (for topping)
3 Tbsp za'atar (for topping)
 

INSTRUCTIONS
Mix yeast, sugar and half the water in a large bowl and leave in a warm room for 10 – 15 minutes.
When the yeast is all activated and frothy/foamy, sift the flour straight into your bowl. Mix in the remaining water, salt and olive oil then finish off with well floured hands, kneading for about 5 minutes until you have a smooth and slightly shiny dough.
Lightly grease a large glass bowl, and place the dough into it. Cover with a cling film, and leave to rise and double in size for 90 minutes in a warm place.
Divide dough into 6 ball on well-floured surface then flatten.
Spread the za'atar mixture on each bread, stopping short of the edges (about 2-3 tsp for each manoushe) then leave the manakish to rest for 5 minutes.
Place 2 pizza stones or baking sheets in the oven and turn the oven on to 250˚C (500˚F/230˚C Fan). Transfer the za'atar manoushe onto the pizza stone using a pizza peel.
Bake for 7-8 minutes, until a lovely shade of medium brown.
Take a look at the full recipe here. It also includes options for making this with a food processor.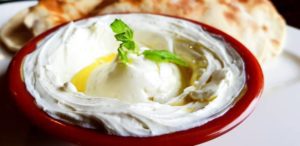 "The end result is a ultra thick, rich, and creamy spread, even more so than Greek yogurt. Spread it into a shallow bowl, drizzle on the best extra-virgin olive oil you can find, and eat it with flatbread." — An Edible Mosaic 
Labneh, which is referred to as yogurt cheese, is just yogurt with the whey removed. You can easily make labneh at home. Just keep in mind that you'll need a cheesecloth (or kitchen towel) and a strainer placed over a bowl.
Related: Feasting at Home's "How to Make Labneh"
INGREDIENTS
32 ounces plain, full-fat yogurt (4 cups yogurt makes 2 cups labneh)
scant, 1 teaspoon salt
splash lemon juice (topping)
lemon zest (topping)
fresh or dried herbs (topping)
1 clove garlic, finely minced (topping)
DIRECTIONS
Stir salt into the yogurt, right in the container, mixing well.
Pour into a kitchen towel (or cheesecloth 2-3 layers thick) set over a strainer, set over a bowl, with ample room to collect 2 cups of liquid underneath. Gather the towel corners together, twist to close and set a canned good, overtop for weight.  Set this in the fridge or cool place in your kitchen for 24 hours. Pour out the whey (or save for another use) Check consistency.

NOTE: If using as a dip, I find 24 hours is enough time. If wanting a thicker cheese-like consistency, feel free to strain another 24 hours.

To make the dip, spread out the labneh into a shallow bowl or plate. Make a well in the center with the back of a spoon then drizzle with olive oil and add fresh herbs and sprinkle with spices.
This dip is so forgiving when it comes to additional toppings. You can add olives, pinenuts, tomatoes, and can even werve with bread, pita, crackers.
For a more brunch-style dip, skip the oil and add a drizzle of warm honey with fresh roasted fruit (figs, grapes, plums, etc) and sprinkle with chia seeds.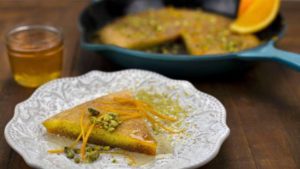 This is an Algerian egg dish that is eaten for breakfast or with coffee and consists of eggs, semolina and flour with warm honey all over it. It can be eaten warm or cold.
INGREDIENTS
5 large eggs
100 ml vegetable oil or 100 ml canola oil
1 tablespoon fine semolina (really heaped)
2 tablespoons plain flour (really heaped)
1 1⁄2 – 2 teaspoons baking powder
1 teaspoon vanilla flavoring or 1/2 teaspoon extract
1 pinch salt
1⁄2 – 3⁄4 cup honey
DIRECTIONS
Pour all the ingredients into a blender until mixed well.
Pour into a large (25cm-30cm) non-stick frying pan and cook on a low heat with the lid on until it is puffed up, the sides come away from the pan & the top is almost totally firm & no longer sticky (about 15 minutes).
Carefully slide the M'shewsah onto a dinner plate (don't knock it or it will deflate) then return to the pan cooked-side up and hold over the plate and flip carefully.
Cook for another 10 – 15 minutes & turn out onto a plate.
Warm honey in the microwave until just warm enough to pour.
Cut the M'shewsha into 8 slices – but do not separate the slices. Pour the honey all over & allow to soak for a minute or two before serving.
Click this link for the full recipe and see how other reviewers rated this dish!