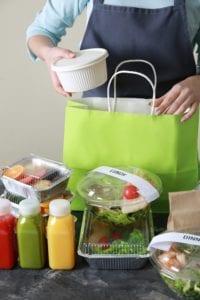 REDLANDS, CA:
Southern California is no stranger to diet trends, and with this pandemic prompting people to take more interest now than ever in their health and wellness, the Redlands Ranch Market is proud to offer authentic and healthy options at affordable prices.
Certain dietary interests such as juicing, eating a keto diet, and veganism are just a few diet trends that rank popular in this Golden State. With these new diets emerging, people often wonder if a place will have an option that can accommodate their specific dietary interests. Thankfully, the Redlands Ranch Market offers fresh juices, keto-friendly products, and vegan meal options, so no belly is left behind.
The Redlands Ranch Market has always taken a keen interest in healthy and fresh groceries, as its
website
says: "Whatever we do, we want to be authentic fresh."
Juice bars have swept the nation by storm (juice storm, that is) and the Redlands Ranch Market is one of the places contributing to this juice wave. Their juice bar is filled with a variety of juices, smoothies, and bowls that are bound to make your health taste buds jump for joy.
If you're wondering what makes a good juice good, just take a look at the Ranch marketplace
juice bar
. With fresh, tasty ingredients, the Redlands Ranch Market shows that good ingredients are vital to good flavors. Some opinions like the Banana Berry Blast smoothie sounds authentically sweet without compromising health while other options like the Toxin Reducer is less-than-sweet but powerful.
With the juice bar also comes aguas frescas, refreshing fruit drinks made daily with fresh fruits. These are "sure to quench your thirst and … a perfect complement to your meal," the website says. These aguas frescas are all-natural and made with no preservatives…talk about authentic and healthy!
For those who are on the keto diet, foods that are high in fats are ideal. The Redlands Ranch Market offers a Keto-To-Go option that's made fresh in the cocina, or Mexican kitchen. With creamy slices of avocados, your choice of tender and well-seasoned meat, and fresh garnishes, the Redlands Ranch Market has created authentic Mexican keto-friendly bowls for those crazy for keto.
Veganism has also had a huge impact on the nation–even popular fast-food chains are providing vegan-friendly burger options. The juice bar, aguas frescas, and acai bowls are all feasible options for vegans, but there's more. With some of the weekly special, you can customize your order. For example, the weekly Wednesday special allows you to build your burrito or burrito bowl from the ground up. This means if certain options don't fit your dietary needs, you simply leave them out. The freedom to customize your own bowl makes veganism a breeze.
Located in the University Plaza Shopping Center, the Redlands Ranch Market is accessible to everyone, not just locals, and welcomes anyone to stop by and experience their assortment of goods. Whether you're juicing, on the keto diet, are vegan, or simply are looking for more authentic and healthy options in the Inland Empire, the Redlands Ranch Market has everything you need for all your dietary interests.