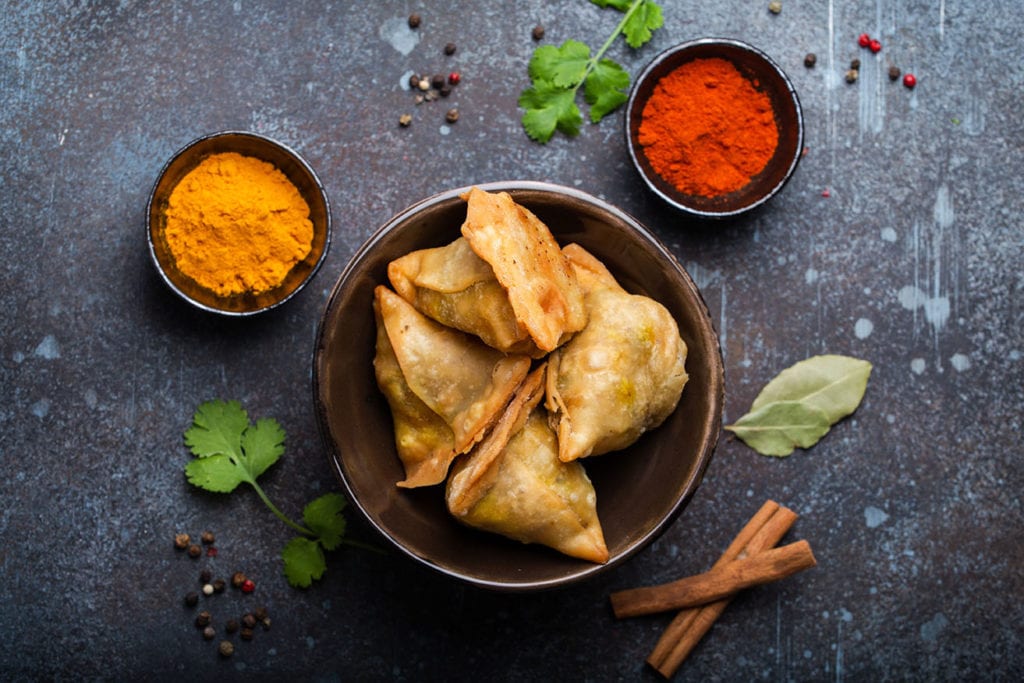 In addition to decorating their homes, temples, and workspaces with diyas, candles, and lanterns, Diwali celebrators mark the festival with fireworks, rangoli floor designs, and, of course, festive food.
The five-day festival of lights is one of the most popular festivals celebrated by Hindus, Jains, Sikhs, and Newar Buddhists. Although the festival marks different historical events and stories for each faith, it still represents the same symbolic victory of light over darkness, knowledge over ignorance, and good over evil for all. During this time, homes are decorated with diya, an oil lamp usually made from clay with a cotton wick dipped in ghee or vegetable oils, and rangoli, floor patterns that use materials such as colored rice, colored sand, quartz powder, or flower petals. So, what kind of foods are eaten to celebrate Diwali?
Popular Foods Eaten During Diwali
In this article about the best traditional Diwali recipes, we learn that the festival isn't complete without sweets. In fact, on day 2 of the festival (Naraka Chaturdashi), many purchase festive foods, particularly sweets. A variety of these sweets are prepared using flour, semolina, rice, chickpea flour, dry fruit pieces, powders or paste, milk solids (mawa or khoya), and clarified butter (ghee). In addition to sweets, there exists a diversity of snacks that are also traditionally prepared during this festive season; let's take a look at two.
SAMOSA
This snack is a crispy and spicy, potato-stuffed, deep-friend pastry with additional fillings such as onions, peas, cheese, beef and other meats, or lentils. If you are having a small Diwali party at your place then, you must serve 'chai-samosa' to your guests! Don't wait anymore, get some samosas! If you can't make it from scratch, don't worry. We carry premade samosa mixes in our international department. But if you are feeling bold and want to make this delectable recipe at home, just follow the steps below. 
Preparation: Wash and boil about 3 to 4 potatoes until they're just done. The potatoes shouldn't be mushy, but should be fully cooked. Once cooled, crumble the potatoes and set them aside.
Pastry: In a bowl, add and mix together (2) cups of organic all purpose maida flour, (¾) teaspoon of carom seeds, (¾) teaspoon of salt, and (4) tablespoons of ghee. When mixing, be sure to rub the flour between your palms for 2 to 3 minutes to incorporate the ghee well. After doing this, the dough should resemble breadcrumbs. When you press down a handful of the flour into your palm, it shouldn't crumble which means the ghee is well incorporated. Add (4) tablespoons of water and begin to form a ball of dough, adding more water as needed. Once the dough is firm, stiff and not sticky, cover and let rest for about 25 to 30 minutes.
Stuffing: In a pan, heat (1) tablespoon of ghee then add (¾) teaspoons of cumin seeds. Once the seeds begin to sputter, and (1) tablespoon of minced garlic and 1 to 2 chopped green chilis then saute for 30 to 60 seconds before adding a pinch of hing, asafoetida powder that lends a leek-like flavor to potatoes.
Spices: Sautee the spices (red chili powder, garam masala, cumin powder, salt, dried mango powder, chaat masala, and fennel powder) for 30 seconds then add green peas and saute for 1 to 2 minutes then add the potatoes from earlier. This mixured will be sauteed for 2 to 3 minutes until everything is blended well together. Add (¼) of chopped coriander leaves.
Flattening the dough and stuffing it with the filling then deep frying it are self explanatory, but refer to the cited article for more details.
MURUKKU
This popular South Indian snack is made with the goodness of rice flour. It's commonly known as 'chakli' in the Northern regions of India. You can easily make this recipe at home with simple ingredients and minimum efforts. This snack has a good shelf life and it can be stored for about 3-4 months. So, check out the recipe below and try it with your loved ones at tea time!
NOTE: Murukku has to be made as soon as you knead the dough, so keep everything ready before you shape and fry them. You will also need a murukku maker.
Flour: In this recipe, make the ease with store brought rice flour. Where can you get it? At Redlands Ranch Market! You will also need some urad dal flour that can be easily made by grinding roasted urad dal in a mixer-grinder or brought at a store. Heat a small frying pan on the lowest heat and add (3) tablespoons of the urad dal to roast and do so until they become aromatic or are light golden, not browned then set aside to cool. The roasted urad dal will be ground into a fine powder then kept aside.
Spread oil on the murukku maker where the dough will be placed. Sieve (1) cup of rice flour with the ground urad dal then add (¼) teaspoon red chilli powder, (¼) teaspoon asafoetida powder (can also add ⅛ teaspoon) and (½) teaspoon salt or add as per taste. Make sure to sift the dry ingredients — not once, but twice. You can add (1) teaspoon of sesame seeds, (½) teaspoon carom seeds (ajwain), and (2) tablespoons ghee. If you don't have carom seeds, you can substitute with cumin seeds. Once mixed, the powder should resemble breadcrumbs.
Dough: Hold a small portion of the murukku mixture in your palms and it should hold itself together. It should not break or fall apart. If it breaks or falls apart, then add 1 to 2 teaspoons more of the ghee. Mix again very well and then check. add water in parts and begin to mix and knead. You will need about 10 to 11 tablespoons of water. The amount of water needed will depend on the quality of rice flour. check the taste of dough and add more salt if required. Knead to a smooth and soft dough. Also keep the dough slightly moist, but do not make too moist as then the murukku absorbs more oil.
Shaping: Divide the dough in two parts and add first part in murukku maker. Cover the second part of dough with a kitchen towel. Before you begin to shape the murukku, keep oil in a kadai to get heated. Keep the oil on a low or medium-low flame, so that it does not become too hot. Use butter paper or parchment paper squares. Cut them and keep ready before you make murukku. Press the murukku maker and move in rounds to get the concentric circles or spiral shape on the paper squares. break the dough towards the end and press it to the last concentric circle of the spiral.
NOTE: If the murukku breaks while forming them, this means that the dough does not have enough moisture. Add 1 or 2 tablespoons of water and knead the dough again. And if you are not getting proper shape, this mean that the dough is too moist. Add some rice flour and knead again.
Frying: Take the butter paper with the murukku in your hands and a small- to medium-sized wooden spatula and place it on the murukku gently. When you gently turn over the spatula, the butter paper will be facing you. Remove butter paper and slide dough into hot oil, flipping dough when it turns light golden. Drain oil and serve as a tea-time snack. For more pointers, be sure to check out Veg Recipes of India for the full recipe.
Remember that Redlands Ranch Market has all your international needs at one spot! This holiday season, celebrate with good food, starting in our expanded
international department
.